Susan Robert at Georgia Museum of Art
11/15/2019
Language Without Words: The Power of Color as Form //
Susan Robert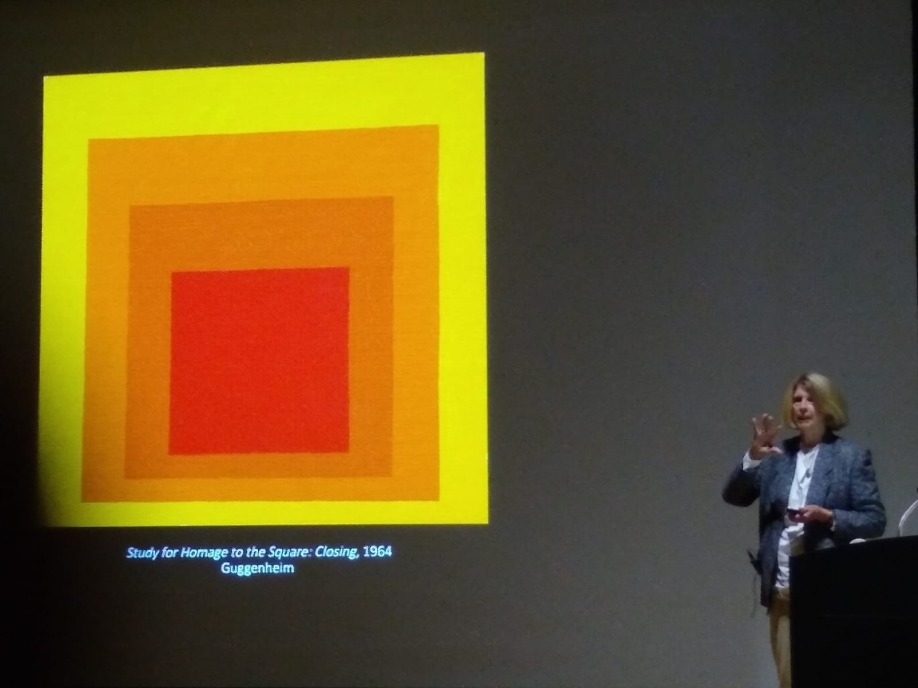 Susan Robert's study of Color Field Theory inspired her experimentation with "grid motifs" which yielded an impressively expansive Installation for the Georgia Museum of Art. Robert sought to express geometric minimalism on a grand scale, further examining how art and organic images from the natural world relate to our technological culture. This exploration was rooted in preserving the purity of various hues and color saturations within rigid confines. Both Installations were titled to pay homage to Josef Albers and Charles Darwin, two experts in their relative fields, art and science, who expressed their fascination with color using distinctive methods.

The first and larger of the two grids is inspired by Charles Darwin, pioneering scientific theorist, who also proved fascinated with color theory during his period of scientific discovery. In sketching his various observations of flora and fauna, Darwin often referenced Nomenclature of Colours (1814), written by Gottlieb Werner, which detailed known color pigments of that time. Robert's 153 unit, 10x10 inch canvas painting, "Scientist as Artist: Charles Darwin", was hand-painted and designed using the same color guidebook that Darwin carried with him throughout his voyages to the Galapagos Islands.
Josef Albers, color field theorist and author of groundbreaking Interaction of Color (1963) impelled Robert's second installation. Arranged to embody her appreciation for Albers' genius, this 53 unit, 12x12 inch sequence utilized mixtures of Albers' frequently favored colors. Such interpretation allowed Robert to seek guidance from one of Josef Albers' constant themes: teaching students HOW TO SEE not how to paint. Instead of teaching a particular style or method of design, Albers stressed the significance of diligence and repeated experimentation when creating. Robert hoped that the gestalt of each of his pigments would coalesce into a unified whole via her installation, Artist as Scientist: Josef Albers.
These two historical figures, while centuries apart, both expressed their fascination with color, thus leading Robert to pay homage to their expertise through her artistic renderings. Robert embodied Albers' virtuous ideals by means of her investigative approach to creation and eventual reveal of her exhibition "Language Without Words: The Power of Color as Form" in July 2019. In addition, Robert presented the story of Josef Albers as the main thesis of her lecture held at the Georgia Museum of Art (as pictured above).
See Digital Catalog for Susan Robert Gray Scale Suite here