Artist in Residence: Ryan Cobourn in Annex St. Joseph
1/7/2022
"Anytime an artist can collaborate with the community, it is a good thing."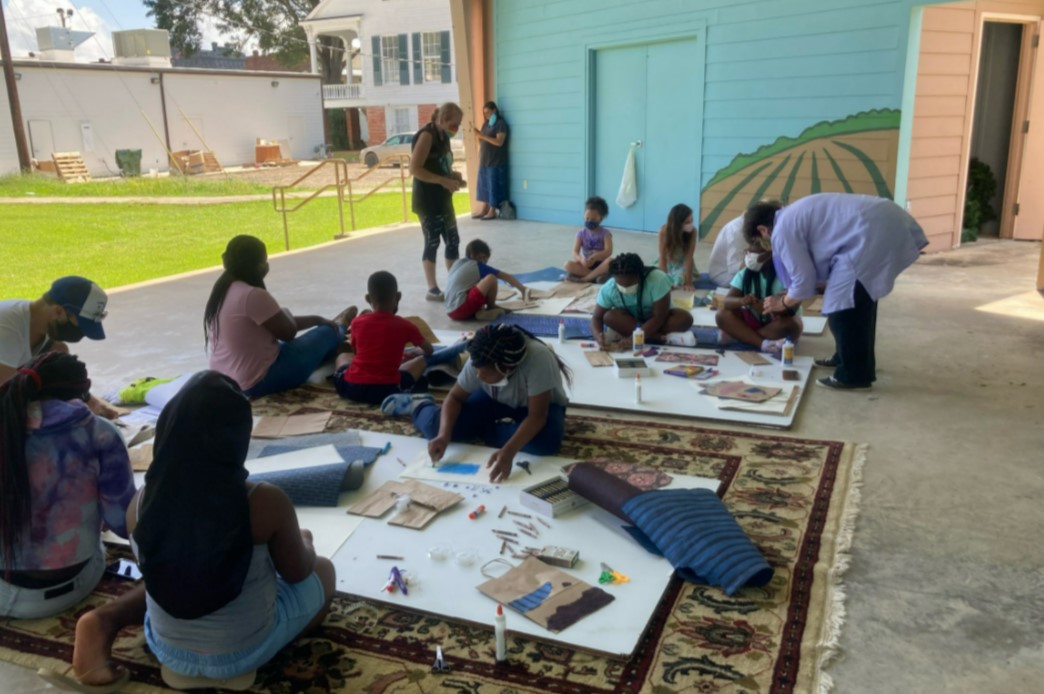 New York painter Ryan Cobourn recently visited St. Joseph, Louisiana, seeking inspiration from the natural landscape, along with a chance to connect with a historic community that is experiencing a creative and economic rebirth. During his residency, Cobourn hosted a free outdoor workshop for local children focusing on the book Radiant Child a book by Javaka Steptoe. This children's biography of Jean Michel Basquiat highlights the artist's young life and the creative inspiration of a child's mind. The three-hour workshop included discussions and hands on art activities for children inspired by Basquiat's technique and unconventional style.
ACFA: Tell us about your experience making art with children in St. Joseph. Did anything about the workshop surprise you, or were there any especially memorable moments?
RC: First we started with the reading of Radiant Child: The Story of Young Artist Jean-Michel Basquiat by Javaka Steptoe, which is a beautiful biography of Basquiat. The author illustrates the life of Basquiat with his own artwork, which includes drawing, painting, and collage using found materials from his home in Brooklyn, NY.
Then we moved into the workshop portion of the talk. We got out all kinds of paper, glue, markers, and of course, googly eyes. The most surprising thing to me was how once the kids got into it, we had a hard time getting them out of it! I thought the workshop would be over in an hour tops, but we definitely went longer, the kids were having so much fun.
What were some of the important takeaways from Jean-Michel Basquiat's story that could be inspiring/relatable for young people?
What I tried to focus on in Basquiat's life story was NOT the rags to riches story. Instead what I tried to focus on was how Basquiat took a traumatic, terrible incident (at a young age he was in a horrible car accident and ended up in the hospital) and used art as a way to process, and then express his emotions. From that tragedy he created his own unique and stunning visual language.
Your workshop focused on making art from everyday objects and scraps. How did Basquiat's artistic process factor into the workshop curriculum?
I definitely could have used many other great artists as examples other than Basquiat; Rauschenberg, Picasso and Braque, and the Surrealists all come to mind. But I feel like the choice was already made for me by Radiant Child itself. I picked up a copy of the book from my local library finding it on the Caldecott List. I had been going through the list, reading them to my daughter.
When Ann asked me to do a workshop with some of the local school children from St. Joseph, it seemed like an obvious choice to start with Basquiat. He came from humble working-class beginnings that were outside the elite cultural circles of the time. That was something I felt we could all relate to.
How do you think programs like this can benefit places like St. Joe in their revitalization effort?
Anytime an artist can collaborate with the community it is a good thing, especially if they are of different ethnic, cultural, or regional backgrounds. It's necessary for all of us to break though the cultural divides that are artificially imposed on us. America is rich tapestry of diverse ideas, stories, and experiences we can all draw and prosper from. When it works, it's a beautiful collage.
This workshop was presented in conjunction with Annex St. Joseph, a storefront the historic Plank Road main street of downtown St. Joseph associated with Ann Connelly Fine Art in Baton Rouge. The goal of Annex St. Joseph is to contribute to the revitalization effort of the historic Plank Road corridor, partnering with other community stakeholders, shops and restaurants. The Annex space will create a hub for artists to visit, work and experience the Lake Bruin community.
View Ryan Cobourn's new work online at annconnellyfineart.com